Source: https://www.rutherford.org/publications_resources/john_whiteheads_commentary/the_road_to_fascism_paved_with_vaccine_mandates_and_corporate_collusion
By John W. Whitehead & Nisha WhiteheadNovember 16, 2021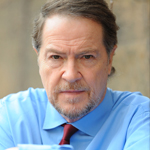 "Man is born free but everywhere is in chains."—Jean-Jacques Rousseau
We are moving fast down the road to fascism.
This COVID-19 pandemic has shifted us into high gear.
The heavy-handed collusion between the Techno-Corporate State and the U.S. government over vaccine mandates is merely the latest manifestation of the extent to which fascist forces are working to overthrow our constitutional republic and nullify the rights of the individual.
In early November 2021, the Biden Administration drew its line in the sand for more than 100 million American workers: get vaccinated against COVID-19 (by Nov. 22 for federal workers, and Jan. 4 for federal contractors and companies with more than 100 employees) or else.
Or else what?
For many individuals with sincere objections to the vaccine, either based on their religious beliefs or some other medical or philosophical concern, non-compliance with workplace vaccine mandates will mean losing their jobs and the possibility of no unemployment benefits.
One survey conducted by the Society for Human Resource Management estimated that 28% of employed Americans wouldn't get a COVID vaccine even if it meant losing their jobs.
Although OSHA (the Occupational Safety and Health Administration) is requiring that employees be paid for the time it takes to get vaccinated and recover from any side effects, those who refuse to get vaccinated but keep their jobs will have to test negative for COVID weekly and could be made to shoulder the costs of those weekly tests. Healthcare workers are not being given an option for testing: it's the vaccine or nothing.
To give the government's arm-twisting some added strength, companies that violate the workplace mandate rules "can face fines of up to $13,653 per violation for serious violations and 10 times that for willful or repeated violations."