Source: https://www.zerohedge.com/covid-19/austrias-salzburg-and-upper-austria-expand-lockdown-include-entire-population
It's no longer just the unvaccinated who are subject to Austria's draconian lockdowns: following the record surge in covid cases in Austria which we discussed earlier,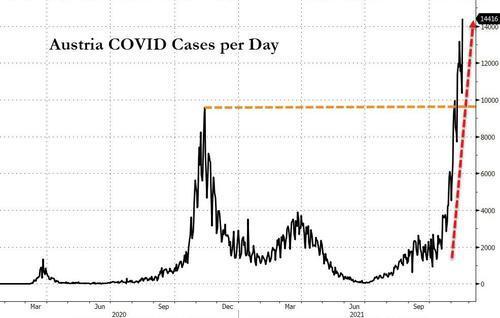 … the regions of Salzburg and Upper Austria will introduce a lockdown for the entire population starting on Monday, which regional leaders said would last for "several weeks" but would hopefully be over by Christmas.
There is no longer any alternative than to order a full lockdown in the region, Salzburg's governor Wilfried Haslauer told a press conference on Thursday afternoon: "We have considered a lockdown to be a significant infringement on the public, but now we are left with no other choice," he said according to The Local.
The length of the lockdown is not yet confirmed, but Haslauer said it would last at least three weeks, and most likely four. As in previous lockdowns, it would be possible to leave home only for essential purposes including food shopping, exercise, and accessing medical care including vaccinations. Hotels, restaurants and retail stores will close.
He urged everyone in the region who is eligible to get their first vaccine doses as well as boosters, "so that we can get out of this lockdown as soon as possible, before Christmas if at all possible". Salzburg this week followed Vienna in making booster doses possible from four months after the second dose.
Haslauer also said that all municipalities in Salzburg would be offering vaccination seven days a week. He noted that as of Monday, Salzburg already has the strictest measures in Austria, but said: "The time it takes for these to take effect is time that our hospitals do not have."