Source: https://maryannedemasi.com/publications/f/covid-19-vaccine-benefits-exaggerated-say-experts
Safety and efficacy of the ChAdOx1 nCoV-19 vaccine (AZD1222) against SARS-CoV-2: an interim analysis of four randomized controlled trials in Brazil, South Africa, and the UK
Study: https://www.thelancet.com/action/showPdf?pii=S0140-6736%2820%2932661-1
By Maryanne Demasi, PhD
In February, Federal Health Minister Greg Hunt boasted that AstraZeneca's COVID-19 vaccine offered "100% protection" against death in the primary analysis of phase III trials.
It was repeated by the CEO of AstraZeneca and uncritically reported by the mainstream media in what seemed to be an impressive achievement.
The published study in The Lancet, however, revealed a more nuanced picture.
In the trial of 23,848 subjects across the UK, Brazil, and South Africa, there was one death in the placebo group and no deaths in the vaccinated group.
One less death out of a total of one, indeed, was a relative reduction of 100% but the absolute reduction was 0.01%. (1/11,724 – 0/12,021)
Similarly, in February the CDC director Rochelle Walensky co-authored a publication in JAMA, which stated unequivocally:
"Clinical trials have shown that the vaccines authorized for use in the US are highly effective against COVID-19 infection, severe illness, and death."
However, there were too few deaths recorded in the controlled trials at the time to arrive at such a conclusion.
The 6 month follow up data from the blinded Pfizer trial found there were 15 deaths in the vaccine group and 14 deaths in the placebo group. (see table S4)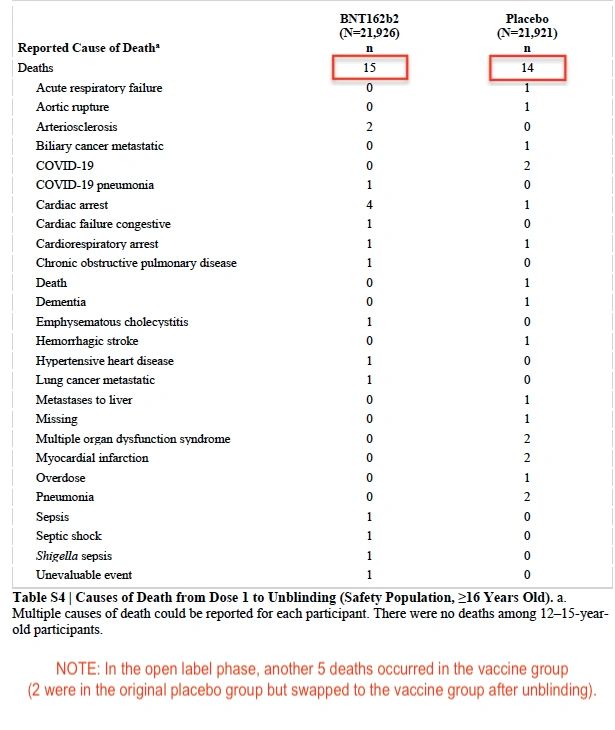 Last week, at a roundtable meeting in the US Capitol, Prof Peter Doshi, associate editor of The BMJ raised concerns about the statements made by the CDC director.